Sailing on the Severn 2019
The 2019 Annual Chesapeake Poster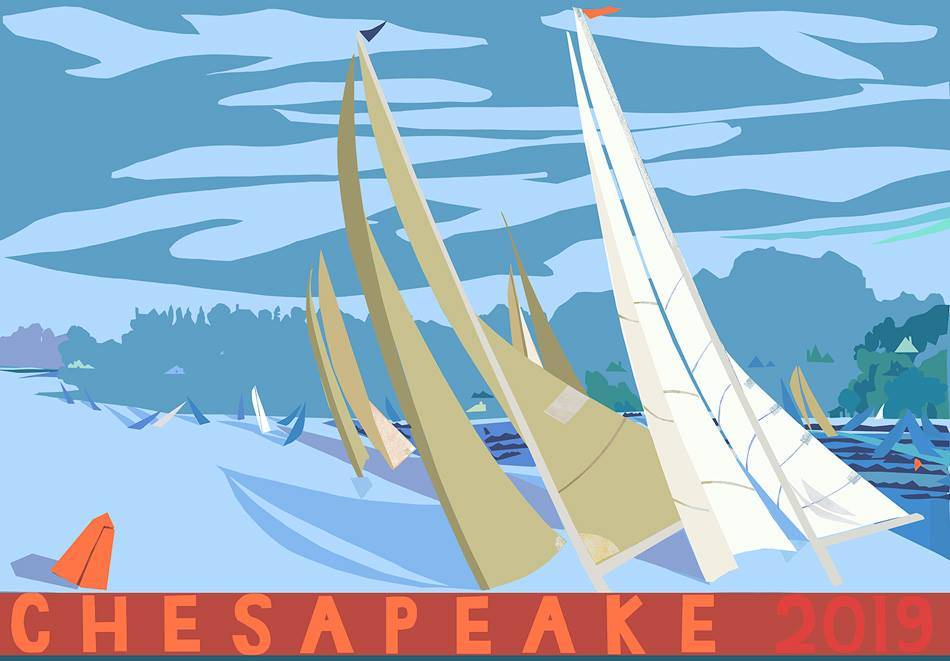 ---
Sailing on the Severn by Nancy Hammond
We've all tacked the Severn a million times.
We've also lucked into a strong wind that, when skillfully managed, can carry us to the head of it, with nary a tack.
We've anchored under the Blue Angels, skimmed past the Crown Center, and ogled the hillside homes tucked in the masses of greenery.
We've all imagined it. Untether your boat, raise the sail and be good-to-go within seconds-if you are the lucky riverside homeowner.
Sailing from afar, we often enter the scrum of boats in Annapolis's harbor and dodge our way to the Severn, pass through and under bridge abutments and finally, enter the wide open beauty of Round Bay.
It's a Chesapeake surprise. That's how I came upon this hilly basin. Starting at Rock Hall on the Eastern Shore, we made our way up the Severn, with a three-year old son laced into the forward bunk, and, with a glass of wine at sunset, we vowed to make this shore our new home.
I write this, many many years later, while carpenters construct a precious hideaway for me, overlooking the Corsica River on the opposite shore, the Eastern Shore.
Down on the Chesapeake Bay, I see the arc of the iconic white sails as I travel over Kent, Bay, and Severn Bridges to reach my gallery in Annapolis.
I raise my glass to my lucky stars that this Bay-hopping, river-winding, boat-floating life is mine to share with all of you.
- NANCY HAMMOND, 2018
---